Joacky Writer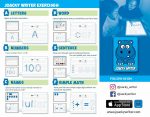 A tracing and typing app created for kids with special needs.
Joacky Writer was developed by a parent with a kid diagnosed in the autism spectrum disorder, it is designed to help kids and individuals improve their fine motor and reading skills. By utilizing a token economy and reinforcer board, we believe that you can motivate your kids to stay focus and on task because you can show them what they are working for and/or what to expect in terms when the task will be done.
Joacky Writer can be used not just at home but also in school if your kids needs access to technology in order to learn to read, write and identify things and objects by using the customization options that is included in the app.
Send Message to listing owner
Joacky Writer