Honest Occupational Therapy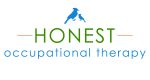 Pediatric occupational therapy providing in home services, webinars and a website full of resources for parents, caregivers, children and teachers children birth to 8 years old.
Providing support services for children birth to 8 years old in regards to their gross motor, fine motor, visual motor/perceptual skills, self help and sensory processing development. Services include customized in home therapy session, group opportunities, webinars on child development and speaking engagements.
Send Message to listing owner
Honest Occupational Therapy